As I was walking my puppy around town yesterday I noticed a LOT of cars with Christmas trees on the roof. With Hanukkah starting on Thursday and Kwanza, Solstice, Festivus, and New Years on the horizon, there's no denying it, the holidays are upon us. Though things will certainly look different this year (Zoom Caroling? Fireside Facetime? TikTok New Year's Eve Parties?), the heart and soul of the holidays is the same: it's the season of connection.
This is the Perfect Year to Strengthen Connections
Every holiday season provides opportunity to show people that you care about them, and this year is a particularly good one. People aren't as busy with social engagements and are likely feeling that loss. This primes them to both appreciate and notice your heartfelt message! I want to encourage you to make an effort to reach out to your network in the next two weeks, for your sake and theirs.
Remember, the strength of your business depends on the strength of your network. The more people who know, like and trust you, the more pandemic, recession, and calendar proof your business will be.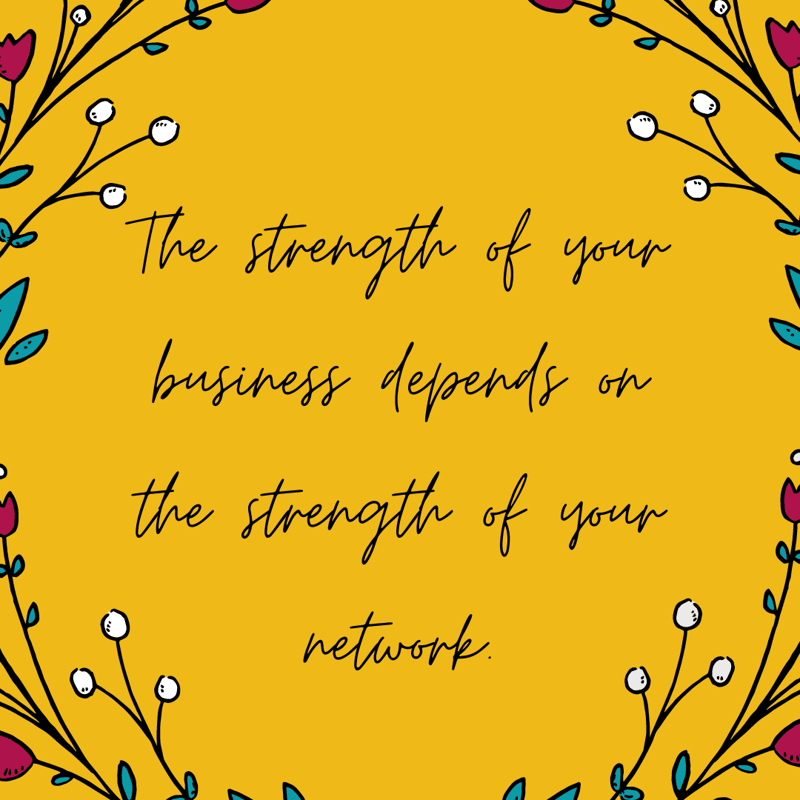 How to Strengthen Relationships This Holiday Season
It can feel somewhat overwhelming to wrap your head around adding an outreach campaign to an already full month, so I'm laying out the process I use to keep things manageable (plus a shortcut I don't even use!). Hopefully this gives you a starting point to make this manageable.
Be Strategic! Match the Outreach to the Level of Connection You Are Seeking
For outreach, I think of the people in my life as falling into four categories, each with its own level of outreach and personalization.
Friends I've never met. These, by and large, are people who are on my list but haven't yet collaborated with me. For this group, I will set aside the time to write a heartfelt holiday message through my email service provider. This is a message of appreciation, so keep it clean (no sales!). Share how much they mean to you: be a little vulnerable and share your humanity and you'll definitely warm some hearts.
Friends I'm getting to know. There is a subset of people on my email list who are curious and want to connect more deeply. For these people (might it be YOU [FIRST NAME GOES HERE]?!?), I often offer a way to get to know each other. One year I sent people a piece of flash paper on which they could write one thing that they wanted to leave behind in the new year so they could set their old belief on fire. (NB- Flash paper is the most fun thing ever. Recommended.)
This is the optional level that I do because it brings me joy. If you are going to skip a level, however, this is the one to skip.
Collaborators and Clients. This level is where I think you should spend the majority of your time. Clients who have worked with you, collaborators who have created with you, people who have sent you referrals, and partners who have supported you: these people are the lifeblood of your business. Every one of them would love to know that you see them as a human being and took the time to consider them personally. This could be a truly lovely card with something personal written inside (Not sure what to say? Try explicit appreciation!).
Next level? Send them a little something. Here's a list of suggestions that I've either sent myself or received from others in the past few years:

Books! I help people with their marketing, so I sometimes send Seth Godin books, and I love Jen Sincero so everyone got "You Are a Badass at Making Money" one year. I've also sent journals, notebooks and pens. The gifts I send tend to cost about $10, unless it's a very close collaborator and then I would spend up to $25.
Card Decks. I'm a fan of inspirational card decks because I think of them as a more flexible one-a-day calendars (meaning, you can pick one every day, but if you miss a day you never feel behind). I've sent Tarot cards, Mike Dooley Notes From the Universe Cards, and I just found a deck that has line artwork and a positive quote that I think are quite beautiful.
Gift services. I often get gifts from my collaborators that come from gift services like Greetabl, or if you want to spend a little more for your closest collaborators, you could try something like Giftagram. I've received boxes of fruit and nuts, a little gift set with matches and a room freshener, and little note cards with stickers just to name a few. There's a lot of cuteness out there, I'm sure you can find something that matches your vibe.
Make Some Time
There is no getting around it, this is going to take some time. BUT! It's time spent appreciating people, and as long as you keep your time batched so it doesn't get out of hand, the time you spend will feel GOOD.
By far the most time consuming are the gifts I send to clients and collaborators. All in, I probably spend about 5 hours, end to end on gifts for the 30 or so I send. I don't even use a gift service (though I totally see why people do! And if you decide to do so, you only have to do step 1 and step 3!) but it still feels manageable.
A Five Step Process for Utterly Thoughtful Gifts that Create Connection
Step 1: Send a short, heartfelt email asking for their address. This is still part of the appreciation process, so take some time and share your heart. This year mine said "I want to thank you for all the work we've done together this year. I'm so, so grateful for you, and its important to me for you to hold something in your hand and KNOW IT. Would you mind hitting reply and giving me your mailing address?"
Keep this email really short because the key is for them to quickly shoot back a reply feeling NO PRESSURE to write a heartfelt note in response. I do this as a mass email with everyone in BCC and myself in the to line. I do this because I want their replies to stay together so that when I am putting together their gifts I am not searching all over my email.
Step 2: Order the gifts and write the cards. While you are waiting for the addresses to come pouring in, you can be writing the cards that go with the gifts. Give yourself a few days so you can do these in batches so you don't get tired and start writing "Happy Holidays!" just to be done. On the other hand, don't burden yourself with writing a long "100 Reasons I Appreciate You" treatise either. I find one line does the trick, something like 'I look forward to hosting more events with you this year!" if we co-hosted events, or "I can't wait to see where your practice takes you next year" if they participated in a practice building program.
Step 3: Send a reminder to the people who haven't responded. I am a fan of forwarding the original email with "Just bringing this to the top of your inbox. Could you send me your mailing address?" If you don't hear from them this time, let it go. Just give that gift to your Aunt Mertyl… or keep it for your own self! I get about an 80% response rate, and I don't worry about it.
Step 4: When the gifts come in, put them in padded envelopes. I usually tuck the card inside the book, or (if I'm feeling fancy), I'll wrap the book in a single sheet of gold tissue paper and put the card between the book and the tissue paper. Or you can just shove the two of them into the padded envelope. Write the name of the person who is getting the gift on the outside of the envelope even if you don't have their address yet (Or you will have a mess on your hands, I say from experience). You can write their address on the padded envelope in a sharpie or you can print labels. It doesn't matter unless you are sending hundreds of them (in which case, let's talk about using a VA to set up mail merge labels).
Step 5: Mail it! Weigh one of the envelopes with a food scale (or go to the post office and have them do ALL of step 5 for you!) and calculate the first class postage. It's usually about $4 to send a book through first class mail in a padded envelope. You can print the postage out onto labels that you can adhere yourself and then drop in a blue mailbox to avoid going to the post office.
You've Done It!
You will feel great! So accomplished. And connected. And thoughtful! And that's before you even get the text message or email with the note of appreciation!
Which Brings Me to the FAQ:
What if they don't respond with a note of appreciation? Are you mad? No. Like all business-building activities, you have to practice passionate detachment! Do it with your heart on your sleeve, but with absolutely no commitment to a specific outcome. Remember, you don't know what they have going on. If they don't reply, just know that you warmed their heart and move on.
Is this manipulative? I get this question a lot, and I think it's because I'm strategic and process-oriented about connection. I genuinely love the people I'm sending gifts and cards to so it's definitely not manipulative. Maybe it just feels calculated because it's all laid out? Remember: being strategic is not the same as being insincere and being spontaneous is not the same as being authentic.
Am I setting the expectation that I'll do this every year for the rest of my life? Nope. And if you are worried about it, then in your card make a note that "This year of all years, I want you to know that I appreciate you." 2020 is THE YEAR for this kind of message. And then you can experiment and see how it feels.
If I spend 10 dollars on 10 people that's 100! How do I know it's worth it? True disclosure: this year I spent $500 on gifts and cards and postage, etc. in my business. And I'm cool with it, because the people who reach a level of know, like, and trust, are going to send hundreds of thousands of dollars my way. Guaranteed. Said another way: is THIS EXACT PERSON going to return on a $10 investment? No way to know. Will having an authentic connection to a network of amazing people who remember I exist return on literally any investment I make? Yep.